Description
Auto Glym Super Resin Polish
A legend in the world of car care used to remove minor scuffs and scratches and to restore gloss to all types of paintwork.
The famous bottle can be found in garages all over the world and has been lovingly applied to everything from hypercars and priceless classics to family cars. It will not only restore gloss to dull surfaces but is also ideal for removing small scuffs and scratches on new or old paintwork.
Use every few months as needed to maintain a superb shine.
The undefeated, 4-time winner of Detailing World's Polish of the Year award.  
How to use this product
Wash and dry the paintwork.
Shake well and pour a small amount onto a polish applicator.
Apply a thin layer to the paintwork in overlapping circles to ensure even coverage. Increase pressure over any marks, scratches or dull patches. Allow drying. Do not apply to unpainted rubber or plastic trim.
Buff with a Hi-Tech Finishing Cloth.
Stand back and admire the shine.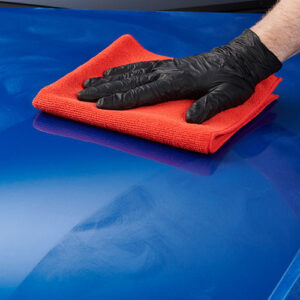 Be Sure to check out our Facebook Page to receive the latest offers and promotions.
Unsure about fitment? Use the Parts Enquiry Form and one of our parts experts will get straight back to you!
We deliver via a specialist courier. Full tracking information will be provided via email and/or text.
For more information on shipping check our Delivery Page.
FAQs
Q: Does Super Resin Polish contain silicone?
A: Yes, Super Resin Polish contains silicone.
Q: Does Super Resin Polish contain wax?
A: Yes, Super Resin Polish does contain a protective wax. If you would like to extend and prolong that protection, apply High Definition Wax or Extra Gloss Protection afterwards.
Q: Can I apply Super Resin Polish to unpainted plastic bumpers and trim?
A: Super Resin Polish is only suitable for painted bodywork. If any residue from Super Resin Polish comes into contact with unpainted surfaces, use Autoglym Fast Glass with a Hi-Tech Microfibre to remove this.
About Us
Peugeot Parts Direct is a web-based service from our flagship Peugeot dealership located in the heart of Swindon. We offer the best prices we can for Peugeot owners and enthusiasts.
Here we aim to bring you all the latest Genuine Peugeot parts offers and discounts.
Located in the South West of England we aim to deliver exceptional customer service not just to the United Kingdom but all across the globe.
All Genuine Peugeot parts, accessories and merchandise are available to order online. In addition, we only supply brand new Genuine Peugeot parts or Peugeot approved parts so you can be confident in the product you purchase.
Our service includes delivery tracking with every order and we offer secure payment via PayPal or our Car Payment System.
Here at Peugeot Parts Direct, we stock a huge range of genuine products, from Genuine Wiper Blades to Genuine Brake Discs available for you to purchase online and then shipped straight to you normally within 24 Hours. However, if you can't find what you are looking for please use the contact form and we will confirm the part required.
Shipping
We ship to all England major cities London, Leeds, Birmingham, Manchester, Liverpool, Bristol, Sheffield, Leicester or Stroke-on-Trent. In addition, we also supply parts in all Welsh and Scottish cities Cardiff, Swansea, Aberdeen, Dundee, Edinburgh, Glasgow, Inverness and Perth.
International Orders
We believe in going the extra mile for our customers, we offer shipping across multiple countries including Austria, Balearics, Belgium, Bulgaria, Corsica, Croatia, Czech Republic, Denmark, Estonia, Finland, France, Germany, Gibraltar, Greece, Hungary, Italy, Latvia, Lichtenstein, Luxembourg, Monaco, Norway, Netherlands, Poland, Portugal, Romania, Sam Marino, Sardinia/Sicily Slovakia, Slovenia, Spain, Sweden, Switzerland.
However, if the country you wish to ship to is not listed above, please Contact Us here and one of our parts experts will get straight back to you!
Auto Glym Super Resin Polish
Genuine Peugeot Part Number: SRP500