Peugeot 308
New PEUGEOT 308, the spirit of technology
In unveiling the new-generation PEUGEOT 308, PEUGEOT is writing the latest chapter in the long story of its best-selling model. Stand-out exterior styling features start with an assertive vertical grille proudly framing the famous Lion badge, a superbly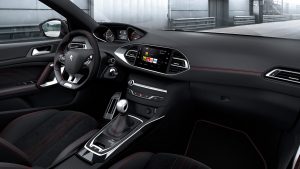 sleek bonnet, and a LED light signature at all trim levels.
Inside, the PEUGEOT i-Cockpit® boasts a capacitive touchscreen offering connected 3D satnav, new graphics, and optimally rapid access to functions. And the new PEUGEOT 308 brings in all the advanced driver assistance systems found on the new PEUGEOT 3008 SUV.
For superlative road performance, there's a choice of up-to-the-minute powertrains, such as the brand new BlueHDi 130 S&S engine or, most uncommon in this vehicle segment, a new eight-speed automatic transmission coupled with the BlueHDi 180 S&S engine. With new pollution-control systems on petrol and diesel versions, PEUGEOT is anticipating on the introduction of the Euro 6.c standard.
Smart, sleek design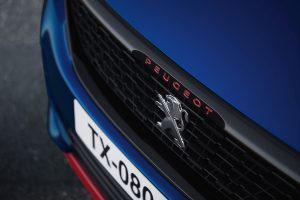 In both hatchback and station-wagon outlines, the PEUGEOT 308 is instantly impressed with its perfectly balanced proportions. Expressive design extends across all six trim versions: Access, Active, Allure, GT Line, GT and GTi. And if the car exudes a powerful sense of robustness and vigour, this owes much to a body design that deliberately fits closely with the underlying mechanics.
The sleek new bonnet caps the vertical grille, with central Lion badge and the PEUGEOT name sculpted into the upper trim. And the car has a real twinkle in its eye, with headlamp-integrated LEDs producing a distinctive front light signature. The muscular front bumper aptly suggests an impressive cornering capability, and its three generous lower apertures ensure effective engine cooling. Side recesses accommodate the foglamps. The rear lamps show a proud three-claw light signature night and day. And with its short front and rear overhangs the new PEUGEOT 308 keeps its reputation for excellent manoeuvrability.
Driver assistance systems and connectivity
Extended driver assistance on the new PEUGEOT 308 runs to eight latest-generation systems, including Active Safety Brake and Active Lane Departure Warning. And this is the first PSA group model to get cruise control including a stop function (with automatic transmission) or a 30 km/h function (with manual transmission).
For the utmost in parking convenience, the new PEUGEOT 308 uses Visiopark 1 with 180° rear camera and the Park Assist function, which measures the parking space available and actually steers the car in.
Addressing mounting demand for seamless in-car connection capabilities, the i-Cockpit® of the new PEUGEOT 308 includes the Mirror Screen, which duplicates the smartphone on the vehicle touchscreen. This is a triple-play system, compatible with Mirrorlink®, Android Auto® and Apple CarplayTM protocols. The rapid-response new 3D satnav system, with voice control, is connected to the TomTom® Traffic real-time traffic monitoring service, enabling motorists to optimize their journeys by factoring in actual traffic conditions.
Efficient new powertrains
The BlueHDi 180 S&S Diesel engine, exclusive to the new PEUGEOT 308 GT, is coupled through a new-generation EAT8 automatic transmission (developed with Japanese specialists Aisin), a new eight-speed unit featuring slick, smooth, linear response, plus Stop&Start capability from 20 km/h. This powerful and highly efficient powertrain procures a really sensational driving experience.
PEUGEOT is one of the first automakers to anticipate on the introduction of the Euro 6.c standard, consistent with the PSA group's advocacy of measures to ensure customers have access to independent, certified information on actual fuel consumption under real-life driving conditions. From September 2018, Real Driving Emissions (RDE) must not exceed 2.1 times the certification figures.
The new PEUGEOT 308 is powered by a choice of highly efficient petrol and Diesel engines offering an ideal compromise between high performance and low fuel consumption.
The three-cylinder petrol engine has undergone a major upgrade, with at-source and at-exhaust emission control for low real-life fuel consumption and even more efficient pollution reduction. High-precision injection control on the PureTech 130 S&S engine enhances combustion efficiency, and exhaust gases go through a catalytic converter then a passive-regeneration gasoline particle filter. A new six-speed manual gearbox reaps the maximum benefit of this high-performance engine.
The new PEUGEOT 308 is the first PSA group model to get the new BlueHDi 130 S&S Diesel engine, a four-cylinder unit that also implements at-source and at-exhaust emission control. Combustion efficiency is improved by a patented combustion chamber design, the efficacy of which was amply proven under competition conditions in the 24-hour Le Mans event. And further efficiency gains are afforded by the SCR (Selective Catalytic Reduction) pollution control system, fitted as close as possible to the engine for the fastest possible post-treatment action.
The new PEUGEOT 308 and PEUGEOT 308 SW are made at the Sochaux plant in France.