Genuine Peugeot Auxiliary Belt
Auxiliary belts are used to drive the air-conditioning compressor, power steering pump, water pump and the alternator, and are connected to those components from the crankshaft pulley. The auxiliary belt should be checked every once in a while to make sure the tension between the pulleys is correct. Pick a point on the belt midway between pulleys and push on it with a finger.
With the engine stopped, inspect the full length of the belts for cracks and separation of the belt plies. Twist the belt between the pulleys so that both sides can be viewed. Also check for fraying and glazing, which gives the belt a shiny appearance. Check the pulleys for cracks, distortion and corrosion. Small cracks in the underside of a V-ribbed belt are acceptable. Lengthwise cracks, or missing pieces that cause the belt to make noise, are cause for replacement.
Occasionally you'll hear a squealing or screeching noise coming from under the bonnet, especially when you start the engine from cold and when pulling away.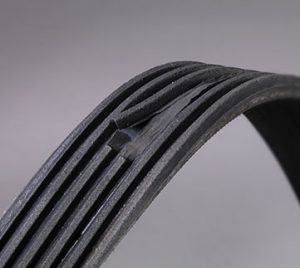 Why Change The Auxiliary Belt
Drive belts are key for the operation of a car's ancillary items. If the air-con compressor belt fails, you could continue to drive, but the chances that a different belt operating a more critical component, which runs several systems will fail if not maintained and you'll be left stranded.
When a drive belt fails it tends to do so in one go. It will split or shred immediately and you will know straight away that something is wrong with the engine. Sometimes the belt splits longitudinally and remains on the pulleys. You may not realise the belt is failing but as soon as you do it's important to stop the engine and replace the belt.
Here at Peugeot Parts Direct, we know that keeping your vehicle on the road is very important and replacing the Auxiliary Belt with a Genuine Peugeot Auxiliary Belt is sure to keep your car running smoothly.
Still not sure about the benefits? Get in touch. Use our Parts Enquiry Form to ask for more information.
Don't forget to check out our Facebook Page for all the latest offers and Promotions