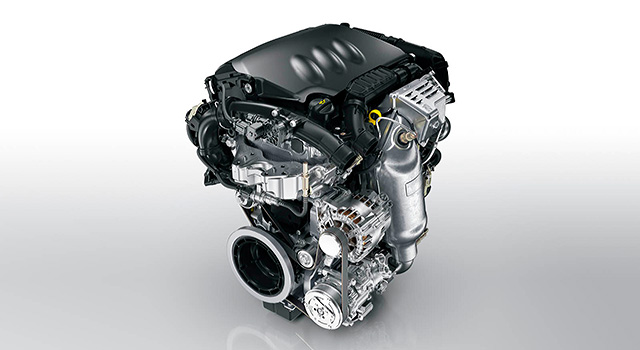 The All-New Peugeot 208 city car embodies irresistible design and the future of driving with its distinctive sporty lines and the new Peugeot 3D i-Cockpit.
Available from early 2020, you can choose petrol, diesel or even electric engine without compromise.
All-New Peugeot 208 GT Line PureTech 100 EAT8 S&S
8-speed automatic gearbox
Compact dimensions and reduced weight
Optimal driving pleasure
The engine of the Year 2015, 2016, 2017, 2018
Benefits
More compact with reduced weight, the PureTech 3-cylinder turbocharged engine reduces fuel consumption and CO2 emissions by up to 21% compared to a 4-cylinder engine of the same power.
With a high-performance generation turbo, this engine offers outstanding drivability from the lowest revs. This makes it suitable for all circumstances.
Electric Engine of the Year 4 years in a row, the PureTech 100hp 3-cylinder petrol engine is a combination of efficiency and advanced technology.
Electric
Sharp acceleration thanks to immediate engine torque
Zero emissions
A silent, serene driving experience
Benefits
When you take your seat in the all-new Peugeot e-208 you're immersed in stimulating electric driving experience.
The power of the electric motor of 100 kW (136 hp)
Immediate reactivity thanks to 260 Nm
Range(5) up to 211 miles (340 km) WLTP *
Battery included and warranty 8 years or 100 000 miles for 70% of its charge capacity
A silent, serene driving experience
A recharge facility
All-New Peugeot 208 GT Line BlueHDi 100 S&S
6-speed manual gearbox
Reduced emissions
Lower fuel consumption
Improved efficiency
Benefits
The BlueHDi technology combines the Particulate Filter (FAP) with SCR (Selective Catalytic Reduction) which allows the treatment of nitrogen oxides (NOx) through the addition of AdBlue®. This technology reduces NOx by up to 90%.
Reduced consumption compared to an equivalent petrol engine
If you Would like to find out more about the All-New Peugeot 208 Like and Share our Facebook Page.
Not set on changing Just yet click here for all of our 208 Products
If your Interested in finding out about the Oil Peugeot Recommends, to keep those engines running efficiently click here.
All-New Peugeot 208 Engines/Motor